Microsoft announced today that its AI-enhanced Bing browser now includes Bing Image Creator, an image generation technology powered by OpenAI's DALL-E deep learning model.

DALL-E is designed to create digital content through natural language descriptions, and has been a popular image generation tool for some time now. Microsoft says that Bing Image Creator will bring AI-powered visual stories and updated knowledge cards to both Bing and a preview of Microsoft Edge that has the same AI capabilities.
Bing Image Creator is integrated into the Bing chat experience, launching in creative mode to get you started. Writing a description of the image, adding context such as a location or activity, and providing an art style will allow the image creator to create a unique image.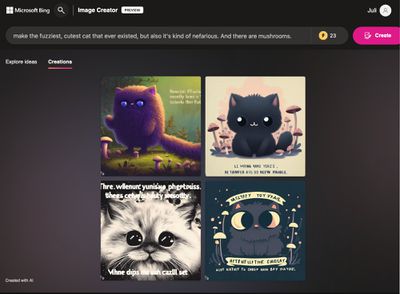 Microsoft says it is working with OpenAI to limit potential misuse of the image generator, and that it has implemented additional safeguards and safeguards to limit the production of malicious or unsafe images.
Use of Bing Image Creator requires access to Bing Preview or the new Microsoft Edge experience. Not all Bing Preview users will have access to Image Creator right away, as Microsoft says it will be rolled out in a phased approach. It will be available on both the desktop and Bing mobile apps for those who have been granted access.
popular stories
iPhone 15 Pro Leak reveals unified volume rocker and mute button
As previously rumored, the next-generation iPhone 15 Pro and iPhone 15 Pro Max will have a unified volume and mute button, according to leaked CAD images shared in a video on the Chinese version of TikTok and posted on Twitter by ShrimpApplePro. Instead of separate volume up and down buttons, the iPhone 15 Pro models are expected to have a single elongated button for …
iOS 16.4 for iPhone is about to be released with these 5 new features
Apple says iOS 16.4 is coming in the spring which started this week. In his newsletter Sunday, Bloomberg's Mark Gurman said the update should come out "in the next three weeks or so," which means it will likely be released to the public in late March or early April. iOS 16.4 remains in beta testing and brings a few new features and changes to the iPhone. Below, we've summarized five new features…
The original factory sealed iPhone sold for $55,000 at auction
A first-generation iPhone in its box sold for $54,904 at auction, which is $54,000 more than the device's original $599 price when it was released in 2007. For a former Apple employee who bought it when it first came out. Back in February, an original locked iPhone sold for over $63,000,…
iOS 16.4 adds sound isolation for cellular phone calls
The iOS 16.4 update that is set to be released to the public in the near future includes sound isolation for cellular calls, according to notes shared by Apple today. Apple says Voice Isolation will prioritize your voice and block out ambient noise around you, making phone calls clearer as you can hear the person you're chatting with better and vice versa. voice…
iPhone 12 Pro vs. 15 Pro: New features to expect if you wait to upgrade
While iPhone upgrades throughout the year aren't always groundbreaking, new features can start to accumulate over multiple generations. For example, the iPhone 15 Pro would be a noticeable upgrade for those who still have a three-year-old iPhone 12 Pro. If you're still using the iPhone 12 Pro and are considering upgrading to the iPhone 15 Pro when it launches later this year, we've rounded up…
Top stories: iPhone 15 Pro pricing, new iOS 16.4 Beta, Siri vs ChatGPT, and more
Apple's high-end iPhone models have started at $999 in the US since they were first launched in 2017 with the iPhone X, but could this be the year that the starting price sees an increase? This week also saw more rumors about Apple's upcoming headset and the company's explorations into the burgeoning AI industry as well as the release of a new round of beta updates, so read on for everyone…